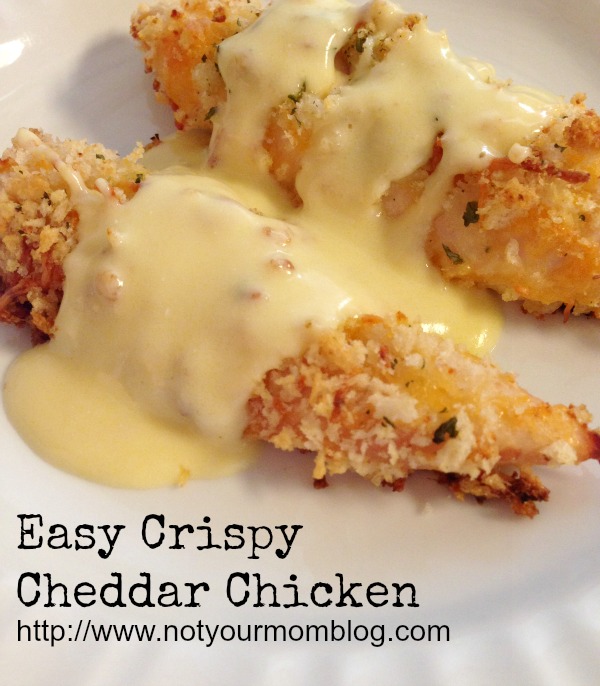 Chicken is like the most favorite thing in my house to cook. The kids love it and you can make all kinds of different dishes with it. For this recipe though I decided to use Panko for the first time. Can you believe that I have never used it before? Maybe I have and just forgot about it.
But for the recipe I tried it out and it turned out so good. I also have to add that the sauce is to die for, and is also awesome as hell on mashed potatoes.

Easy Crispy Cheddar Chicken Recipe
Ingredients
Chicken:
8 Chicken breast tenderloins
2 cups of plain panko
½ cup milk
2 Cups cheddar cheese
1 ts dried parsley
Sauce:
1 10.5 oz can of cream of chicken soup
3 tbs sour cream
1 tbs butter
Instructions
Pre-heat oven to 400 degrees.
Spray pan with cooking spray.
Pour the milk, cheese and panko in 3 separate small bowls.
Dip each piece of chicken into the milk, then roll into the cheese and then roll into the panko.
Place the chicken in the pan and sprinkle parsley over the chicken.
Cover pan with tin foil and bake for 35 minutes.
Remove tin foil and bake for an additional 10 minutes.
While the chicken cooks:
In a medium size sauce pan mix the cream of chicken soup, sour cream, and butter. Stir over medium heat until the sauce is hot. Serve over chicken and over potatoes if you wish.