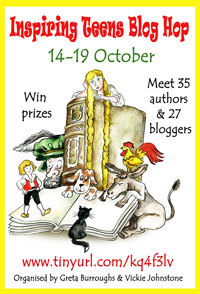 This week I am participating in the Inspiring Teen Blog Hop. It is awesome to me because I love to read and wish that more people would read especially young pictures. Today I am featuring Wendy and Charles Siefken and have an interview with them for you guys to check them out.
1. Reading
Why do you think Teen Read Week is important?
It is important to get teens interested in reading and finding adventures in books that could inspire them to create their own adventures and better navigate their way through the sometimes rough teenage years.
How do you think we could encourage youngsters to read more?
By writing about things they are interested in.
When you were a teenager what books did you like to read and did you have an all-time favourite character?
I read everything I could get my hands on, everything from the Hardy Boys mysteries to the Shannara series.
2. Writing
Were you writing as a teenager?
If so, what were you writing and what inspired you? Did a person inspire you to write?
Do you think today's teens are in a better position if they want to be a writer than you were all those years ago (heehee)?
Yes, by far and large they are in a much better place to become published then when I was a kid. When I was a kid there was no such thing as eBooks or independent publishing for free.
What advice would you give a youngster who enjoys writing?
Keep at it and never give up if it's something you really love to do, and want to see your book and stories out there, publish them. Never ever give up.
3. Your books
What is your latest book about?
Our book is about young man who is trying to find his way in a world decimated by the zombie plague.
Are you working on anything new at the moment?
Yes, we have finished book two and are working on book three, as well as The Chimera Effect and Fallen Angel.
What do you love about being an author?
We love the people we get to meet and the worlds we get to create!
Biography:
Charlie and I are a mother and son writing team who have found our niche writing for the YA, middle-grade fantasy genre. We love everything from the writing process to the publishing process. We love talking to others and learning more about them and what they like to read as well.
Be sure to connect with Wendy and Charles Siefken here:
http://siefkenpublications.info/
https://twitter.com/WendyandCharles
https://www.facebook.com/WendySiefken66
https://www.facebook.com/#!/SiefkenPublications
https://www.goodreads.com/author/show/5815018.Wendy_Siefken
http://www.pinterest.com/wendyandcharles/boards/
And don't forget to enter to win copies of their books:
Giveaway
I am giving away two copies of each of these books:
Hiding in Plain Sight, Curse of the Red Eyed Witch and Kai's Journey.