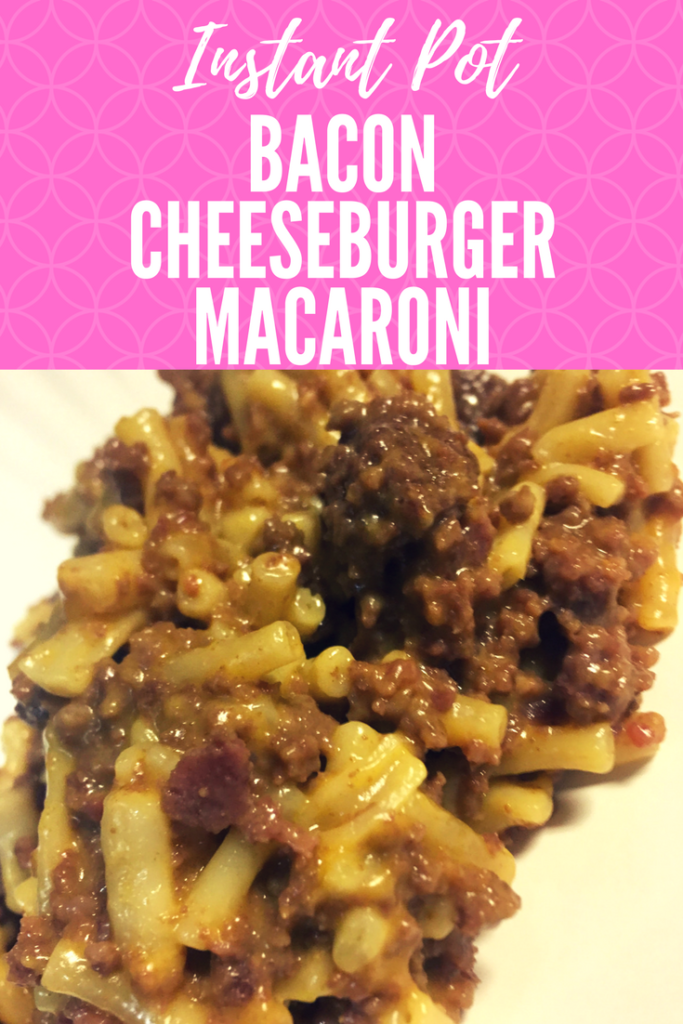 I don't know about you guys, but Macaroni and Cheese is one of my favorite things to eat. Or maybe it is just cheese in general. But hey, I love it. Well a few weeks ago as an early Christmas gift I was gift my brand spanking new Instant Pot. I had been drooling over them for a while and wanted to see what the awesomeness was all about.
And boy am I glad that I did. So far I've experimented a lot, and followed a few recipes. Well this recipe is one I put together last night when I had no idea what to make and didn't want to go to the grocery store. So this newest recipe is one that I put together with ground beef, bacon, elbow macaroni and lots of cheddar cheese into the Instant Pot.
And it came out so delicious, I had to hoard some for leftovers for lunch today before the two teenage boys could get their hands on it. Of course this had to take place covertly and with precision ninja skill.
But in reality for my first Instant Pot created recipe, I have to say that this one is very simple to make.
Instant Pot Bacon Cheeseburger Macaroni
Instant Pot Bacon Cheeseburger Macaroni
Ingredients
1lb Ground Beef
1lb Elbow Macaroni
3 Strips of Bacon Cut Up
1¼ Cup Water
2 Cups Mild Cheddar Cheese
¼ Milk
Instructions
Place the Ground Beef and Bacon in the Instant Pot and brown using the Saute Function.
Next Place Elbow Macaroni and Water into Instant Pot.
Close the lid and make sure the steam valve is close.
Put on Manual for 5 Minutes and when done perform a Quick Release.
After the pressure is release pour in milk and mix cheddar cheese until melted. You can also press the Saute button if your cheese isn't melting fast enough.
So it's pretty easy and in my 8qt Instant Pot the Macaroni is perfectly done. For a smaller pot you may be able to cut the water to 1 cup and cook for only 4 minutes. I'm basing my times on the 8 Quart cooker.
Tell me what you guys think!