I have a thing for recipes that contain chili and recipes that contain macaroni and cheese. I promise I'm not secretly a 13 year old boy, but my son is almost one. And he actually has a more grown up food palate than I do. Yeah, totally crazy. I know. But in our house we like to have fun with our food and if that means mixing our favorite chili with macaroni and cheese and cooking it inside of biscuits then, that's the kind of fun we are going to have.
And besides it's perfect for movie night and busy nights when we are on the go.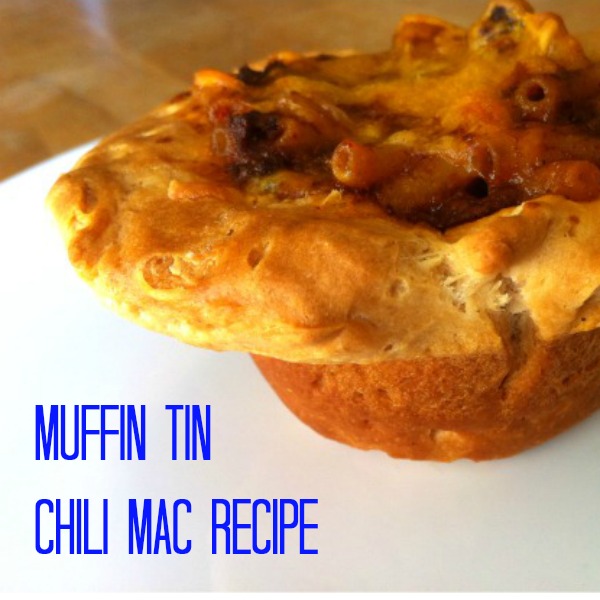 Here is my recipe for Muffin Tin Chili Mac:

Muffin Tin Chili Mac Recipe
Ingredients
1 box macaroni and cheese dinner
1can (15 oz) chili (I use Wolf brand because it is my favorite)
1½ cups shredded Cheddar cheese (6 oz)
1 can (16.3 oz) large refrigerated buttermilk biscuits
Instructions
Preheat oven to 350 degrees.
Prepare Macaroni and Cheese as directed on box.
Stir in chili and ½ cup of the Cheddar cheese; cook 1 minute.
Separate dough into 8 biscuits; press each biscuit to 5½-inch round.
Press 1 biscuit in bottom and up side of each of 8 ungreased jumbo muffin cups, forming ¼-inch rim.
Fill with macaroni mixture; sprinkle with remaining cheese.
Bake 28 to 32 minutes or until golden brown. Cool 1 minute; remove from pan.