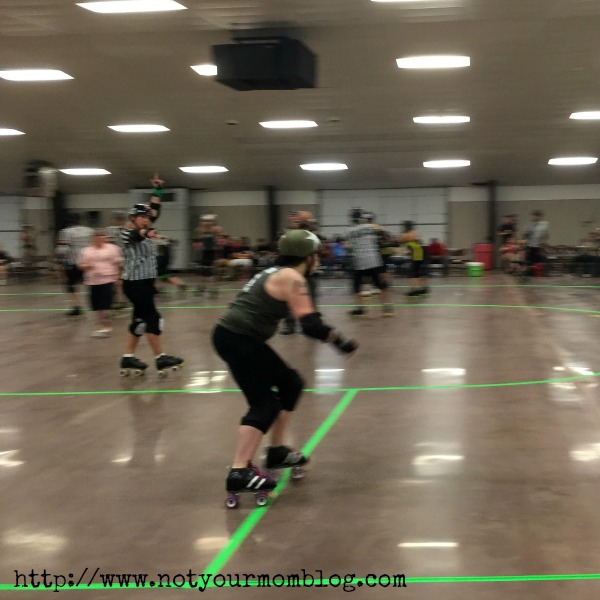 About 9 months ago, I attended my first fresh meat roller derby practice. I went because a friend had posted about it in Facebook and I immediately wanted to check it out. After all like most women my age I had watched and love 'Whip It,' so I went and was immediately hooked. Since then I have pushed my body to limits I didn't know that it had.
It was crazy, at practice I didn't mind being drenched in sweat. It was okay that I was barely able to walk the day after a hard practice. It was insane, but I did all of this with one goal in my mind, to roster onto my team the East Texas Bombers. And I did it, after months of grueling dedicated work and tons of sweat and even some tears, in April I passed the minimum skills test set forth by the Women's Flat Track Derby Association.
It was only my second time to test and I don't think I had a more self-fulfilling moment since I had attempted my first hit during a practice.
After I passed I was eligible to play with my team, and before the next scheduled game I attended different scrimmages and mash-ups (games with teams compromised of players from different teams). It was an experience that I needed and boy was it a rush of excitement and fear all rolled into one.
My biggest cause of anxiety going into my first game was blocking. The thought of the jammer hitting the wall at full speed and getting knocked on my rear clouded my thoughts. It happened a couple of times, but after I got over the self-doubt it was exhilarating. It was so much fun that the jammer even made a comment about how I would flick back against her, so that I could stop her. Working with my teammates to stop the jammer was an accomplishment. It was crazy. It was a rush.
Then during my first game with my team, I was able to attempt the ultimate of derby rushes….I wore the star. In all of the mash-ups that I had played in, I hadn't attempted to be a jammer, but during our game I got to try. I also succeeded at it. I became lead jammer both times and I was able to score points and had the fun rush of fighting my way past the opposing team to get their points.
I don't know when I will ever quit playing roller derby, but it will not be anytime soon.