Recently I have been on a roll with you using my slow cooker, I think it is honestly one of my favorite things to use in the kitchen. Mostly because it is so easy and there really isn't a whole lot of work to it. The most recent dish that I have tried in the slow cooker are Buffalo Chicken Sandwiches. They were really easy to make and the kids adored them, meaning they weren't too spicy for them.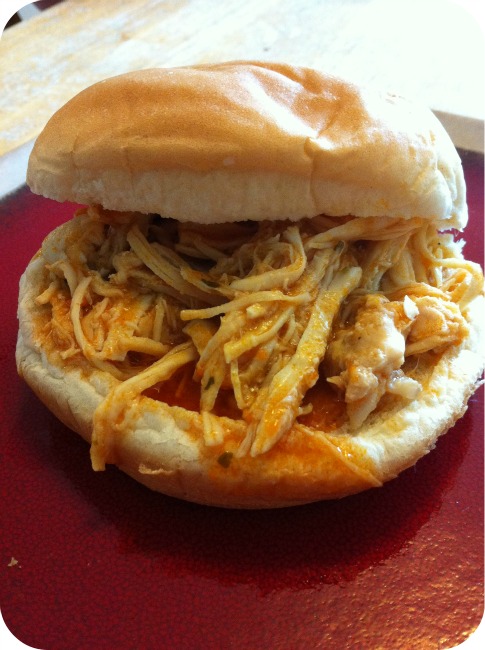 Like most slow cooker recipes Buffalo Chicken Sandwiches are so easy that you preparation consists of placing the ingredients in the crock pot and going about your day. Without having to do anything until they are almost done and it is time shred them for sandwiches.
Check out the easy directions to make your own Slow Cooker Buffalo Chicken Sandwiches and if would like a little less hotness be sure to visit Life with Sharon and check out the Zesty Slow Cooker Barbecue Chicken Recipe, that I have also made this week.

Slow Cooker Buffalo Chicken Sandwiches - Recipe
Prep time:
Cook time:
Total time:
Ingredients
4 skinless, boneless chicken breast halves (I used 2 large chicken breasts cut in half)
1 (17.5 fluid ounce) bottle buffalo wing sauce, divided
½ (1 ounce) package dry ranch salad dressing mix
2 tablespoons butter
Hamburger buns (we used a whole package of 8)
Instructions
Place the chicken breasts into a slow cooker, and pour in ¾ of the wing sauce and the ranch dressing mix. Cover, and cook on Low for 6 to 7 hours or high 3 t0 4 hours
Once the chicken has cooked, add the butter, and shred the meat finely with two forks.
Spoon the meat onto the hamburger buns rolls, and splash with the remaining buffalo wing sauce to serve.