A couple of days ago Hal lost a tooth, by coughing and it flying out of his mouth (it was very loose, too).
To right under his bed.
Well I kinda maybe sort of told him that the tooth fairy would only come if he had the tooth under his pillow.  But I finally consented that maybe she would know he lost it and come anyway.
Well I the tooth fairy came tonight and found this letter under his pillow.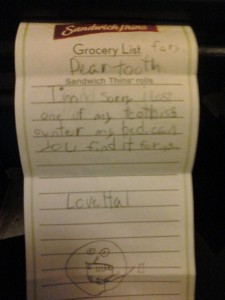 I know the picture is not that great so here is what the letter says (even with his misspellings, because he is only 7 and they make it cute. And because he did it all by himself without telling me):
Dear tooth farry,

I'm sorry i lost one of my toothiss onter my bed. can you find it for me.

Love Hal
And while I know the kid has behavior problems, this letter just shows how sweet he can be. And isn't the little picture showing what tooth he lost just the cutest thing?