So this week I wrote about my Monday morning from hell and how during it all my oldest son was sick. Well that morning when we nearly to school my oldest started saying he was sick and I took him to my mother's house to go to the restroom while we went ahead to take the youngest to school. Well throughout the day he seemed somewhat sick but didn't have anymore bouts of diarrhea. We did baby him and only give him sprite and soup too.
Well the next morning we are getting ready for school and he told me he just felt "a little bad" so of course I told him to go ahead and try school and if he felt really bad the nurse would call me and that I know she has my number because she calls me frequently about his little brother's medication. I also threatened that if he did stay at home that he would have to go to the doctor. He agreed. We got all ready and just as we turned the corner off of our street he starts crying and it appeared that he had the chills. So I turned around and brought him back home to his dad with the promise of calling the doctor when I returned from dropping his brother off.
So when I get back he is in bed and I made the doctor's appointment. While he was not running fever he did have other symptoms. At the doctor appointment they tested him for strep and then decided that he just had a virus and that we just had to wait for it to work out and treat his symptoms. Looking back I wish they had come up with some reason to give him a shot!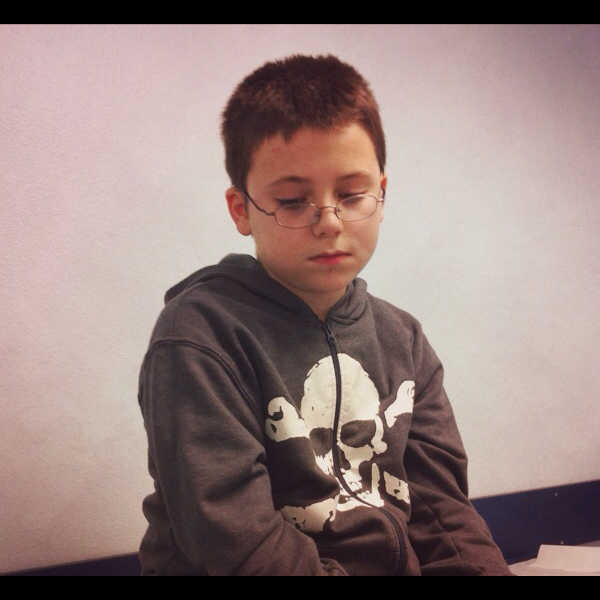 Well after the trip to the doctor Wednesday morning we decided that he would go to school. Once we nearly got to school he started crying and my mother had called and even had to ask me if I had beaten the kid on the way to school. Well at school instead of just dropping him off I walked him in so I could tell the nurse and have her give me a call if he started to feel really bad and I would come get him. She agreed and I started to walk him to the auditorium where all the kids go in the mornings.
On the way to the auditorium I was stopped by the principal! He had totally been in trouble at school for calling another kid an asshole! And had then lied about turning in his discipline note and gotten himself detention!
So he was afraid of us finding out that he got into trouble(which he rarely does) and I assume he believed the school would forget about it if he didn't go to school for a couple of days. So of course now he is grounded and made it just fine through the school day after I found it. I don't doubt that his symptoms were real from stressing about trouble!
What would you guys do if your kid faked sick like that?
Everyone was surprised that he took it far enough for me to take him to the doctor.