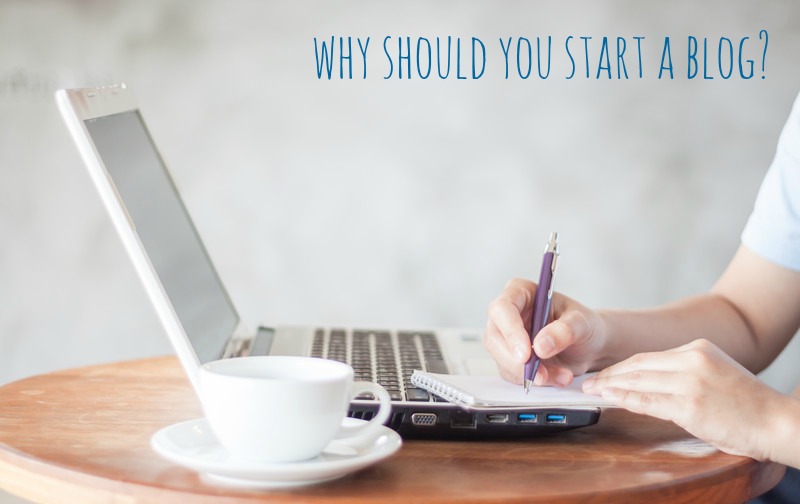 Have you been thinking about starting a blog? And your doubts are strong and you aren't sure why you should? Well there are totally NO bad reasons why you should start a blog, in fact there are many good reasons! And I've chosen to give you a handful of them!
10 Reasons why you should start a blog:
Make money while working from home. Next, to being creative, this is my favorite reason. It is a lot of work to build a decent income but with time and hard work an excellent income is possible. But to be successful, you have to be dedicated and practice time management skills. Check out these time management tips.
Become a published author. These days most writers need to have their own platform before they get published. Most publishing companies will not publish you unless you have an established audience.
Get more exposure for your existing business. Exactly, what this one means. Blog posts could be about product launches, existing products or even about daily life in your office.
Establish Authority. Writing about things consistently shows your expertise.
Organize your thoughts and learn. Sometimes when I'm stuck on something it helps to write it out, and that also works with my blog, if you've built a community you can also get advice for your problems or talk it out by posting and figure out what you should do or even to confirm your thoughts.
To become a better writer. This one screams for itself. Most professional writers will tell you to just keep writing, even if when you start out as you learn and write more it will always get better.
As a personal journal. Even if you aren't looking to make money writing or your goal is to be a memoirist, a blog can be used as a journal. Even when I started out over ten years ago, most of my posts were journal in style.
Help people.  Writing about life events to show others that they aren't alone. There are a lot of blogs about health, loss and love for connecting people.
Connect with people like you. This goes hand in hand with helping people, so important!
To have a creative outlet. This was me, I started out as a scrapbooking blog. Now I write regularly as an outlet and no longer scrapbook. I also am now a published fiction writer.
The moral of this post!
Just start a blog and just write, I'm not saying it's easy work. But if you stay at it, it's fulfilling and you can do awesome things and connect with fantastic people.
Why do you want to start a blog?