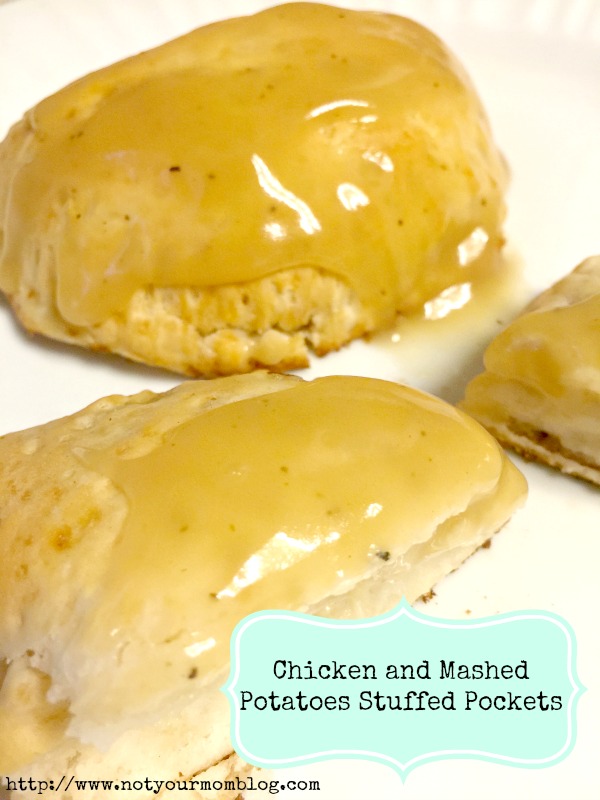 So last week I came across a recipe for Taco Empanadas. It was fun and easy and I was able to use jumbo canned biscuits for the outside crust. They were yummy and the whole family loved them. So I started racking my brain and was curious if there was anything else that I could stuff in biscuits for dinner. And yes the possibilities are endless. I decided to try a traditional spin and use ingredients that we usually have lying around the kitchen: biscuits, chicken, mashed potatoes, and gravy.
So please check out my fun recipe for Chicken and Mashed Potatoes Stuffed Pockets:

Chicken and Mashed Potatoes Stuffed Pockets Recipe
Ingredients
1 can of large refrigerator biscuits
¾ cup of mashed potatoes
¾ cup of chicken gravy or gravy of your choice
¾ cup shredded cooked chicken
Instructions
Preheat oven to 375 degrees
Line baking sheet with foil
Flatten a biscuit out with the heel of your hand into a circle
Spread a spoon full of mashed potatoes over biscuit
Top with chicken and gravy
Fold the biscuit over sealing with your finger and then crimping with a fork.
Poke holes into top of folded over biscuit.
Repeat with all biscuits.
Bake for 15 minutes.
Upon serving spoon extra gravy over the top.
Here is a photo of how my taco empanada's turned out that I had made previously: