So this recipe for Easy Chicken Pot Pie is exactly as advertised….EASY! And I can say that because while I love to cook the easier the recipe to me the better. I think for this recipe there were actually no leftovers because the kids loved it that much. So here is how you can make your own Easy Chicken Pot Pie: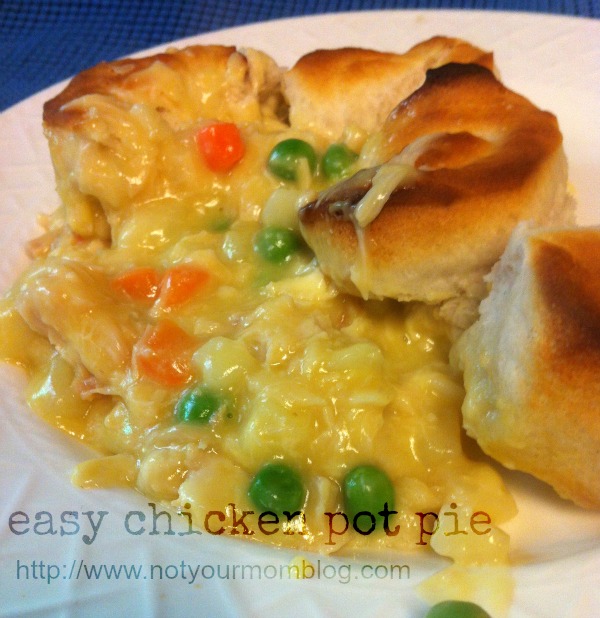 Easy Chicken Pot Pie Recipe
Ingredients
1 can 12oz precooked chicken
1 cup frozen peas and carrots
2 cans cream of chicken soup
1 can 15.5 oz cubed potatoes
2 7.5 oz cans refrigerated biscuits
Instructions
Preheat oven to 400 degrees
In a medium size sauce pan mix the chicken, peas and carrots, cream of chicken soup and potatoes. Heat until bubbling and hot.
Place contents of sauce pan in a baking dish. I used and 9X13 baking dish.
Place biscuits even over the top of the chicken mixture. Making a crust.
Bake for 20 minutes halfway through placing foil over the top so the tops of the biscuits do not burn.
I had fun making this dish for my family and it was perfect for us to eat right before going to the cold soccer fields for practice. Like I said I have two growing boys and they didn't leave hardly any for anyone else.
So try it out and tell me what you guys think in the comments.